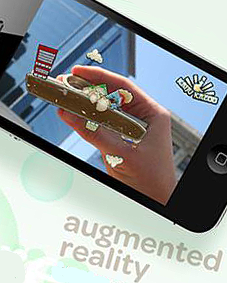 Augmented Reality Game Development
College of Computing and Digital Media, DePaul University
Course I devised: In this workshop students cultivate the skills to design, program and develop augmented reality (AR) games. Students learn about the unique affordances and design opportunities inherent to the platform. Based on the studio model, each student adopts a role on the development team, such as programmer, designer, and artist, and each is responsible for contributing professional work consistently each week. Because the platform of AR games presents unique challenges to developers (players often feel disoriented or over-tasked) teams first create a dozen AR toys, and build up the most promising experiences into games. Class time consists of lectures, workshops, workdays, playtests, critiques, and class discussions.